Platformers are a well-known type of video game. When you get good at a platformer and play at a high level, it feels different and is harder than most other games. The Xbox, Nintendo, and PlayStation all have great platformer games, like Mario and Astro Bot, and the Xbox is no different.
Rare and Double Fine are now part of Xbox Game Studios, and both have been making great platform games for a long time. If you like platformer games, an Xbox Series X|S is a great place to be because it can play games from the past and some games have special Xbox-only features.
1. Banjo-Kazooie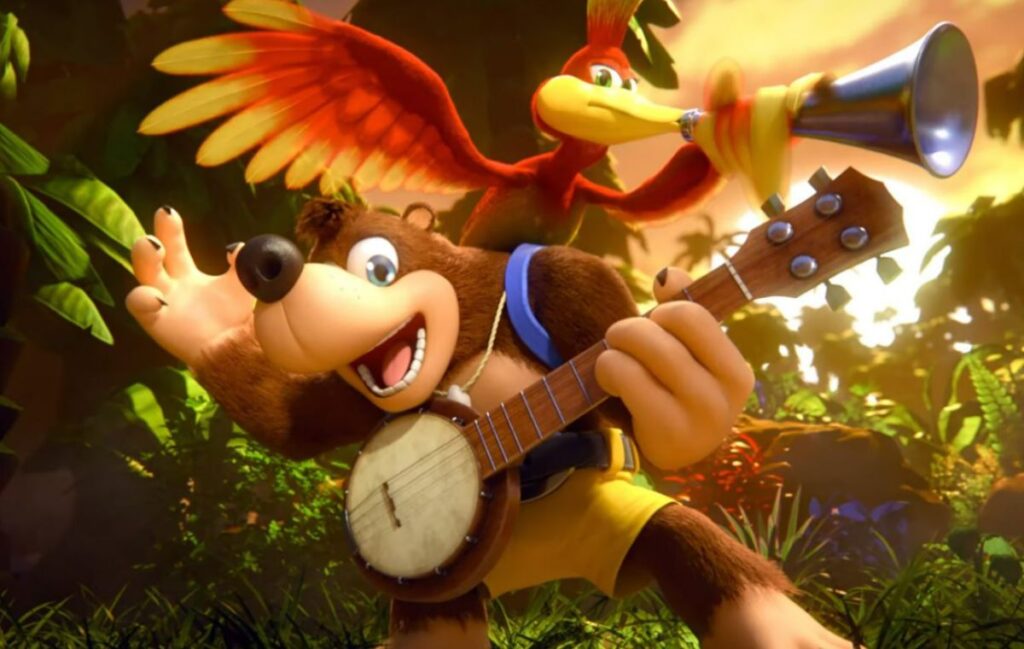 Banjo-Kazooie is one of the best platformer games of all time, let alone the best on Xbox. After Super Mario 64, Rare gave the new platformer game-collecting genre its own twist. The art style is great, and even with HDR turned on, it still looks bright and colorful. Characters have a lot of personalities, and the level design is so good that you won't get lost very often, if at all.
Except for one thing, you can get everything in a world when you first enter it, which keeps the pace steady. It's like Resident Evil 4, where you might start playing for the first time in years and then find that you've already beaten the game again. The Banjo trilogy as a whole is great, but the first one can't be beaten.
2. Psychonauts 2
The long-awaited sequel to the cult classic Psychonauts from 2005, Psychonauts 2, was a strong contender for Game of the Year in 2021. Psychonauts 2 was first crowdfunded at the end of 2015, but it still took almost six years to come out, but it was well worth the wait. The excellent platforming gameplay from the first game is still there, and the collect-a-thon feels much better in this polished first-party Microsoft game.
The first Psychonauts had a lot of collectibles that were way off the beaten path, which could get boring. The collectibles are easier to get in the sequel, and the checkpoints are much more forgiving. The boss fights are a low point, but bosses are often hard in platform games. Psychonauts 2 is one of the best games released by Xbox Game Studios in the past few years.
3. Yooka-Laylee And The Impossible Lair
The first Yooka-Laylee was a very successful Kickstarter game, but it wasn't as good as the Banjo-Kazooie games, which were made by many of the same people at Playtonic. But Yooka-Laylee and the Impossible Lair is one of the best sequels that people didn't expect to like. The game is now a standard 2D platformer instead of a 3D collect-a-thon, and it feels much better to play. platformer game is not only fun and has a good level design, but it also has a cool twist.
The last level, the Impossible Lair, can be reached at any time. When you finish a normal level, you get a Beetalion that you can use in the Lair as an extra hit point. You'll probably finish all the levels so you can get the most hit points, but if you're brave, you can beat the last level early.
4. Celeste
Celeste is a platformer that is easy to learn but hard to master. It is one of the most well-liked indie games ever. Getting through the game to the end of chapter eight is hard and rewarding. It's one of those games where you'll be so focused on it when it gets hard that hours will pass before you know it.
The story itself is told very well and can really hit home with people in the LGBTQ+ community. But if you don't care about the story, the platforming will be enough to keep you interested. The music and pace of Celeste are also great. This game is a must-buy for anyone who likes platformer games, not just people who like platform games.
5. Alice: Madness Returns
Alice in Wonderland is one of the most popular public domain stories that gets changed and retold in media. American McGee's Alice is a PC platformer game from the early 2000s that doesn't hold up now. In the first level, you can easily get stuck and soft-locked if you jump to a place from the wrong angle. The sequel, which came out in 2011, is a whole different story.
Madness Returns looks much better today than its predecessor, and it gives an interesting twist on a popular story. The platforming and fighting are both fun and interesting, and the story never drags. Even though the first game can be played within Madness Returns, it's hard to go back to. The second game will bring you up to speed on the story, so don't worry about missing important plot points.
6. Trials Fusion
The Trials series from RedLynx and Ubisoft is one of the best platforming series ever made, but Trials Fusion has the most things to do. It looks like a simple game, but it has a lot of depth to it. Even if you get very good at the game, you can always get better and go a little faster than the next person on the leaderboard.
There are eight more platformer games to play in the full package. You can try to get a gold or platinum medal for each track, and there are also three challenges to try to finish. You have to do a lot of strange things for these challenges, like playing tennis with a penguin. Since the Trials series is made by Ubisoft, this game goes on sale a lot and is a must-buy.
7. Clustertruck
Clustertruck is a great example of how sometimes the simplest platformers are the most fun. In this game, you just have to jump on trucks to get to the goal as quickly as possible. If you fall, you have to begin again. Even though this game is simple, it's easy to get hooked on it, and you'll probably want to finish it.
The last few parts of the platformer game are very hard, but Clustertruck is quick like Super Meat Boy, so it's easy to start over if you fail. Online leaderboards are only available in the Steam version, so you'll probably finish the game and move on to something else. Still, Clustertruck is a lot of fun for as long as it lasts.
8. Limbo
People often say that Limbo and Playdead's next game, Inside, are two of the best independent games ever made. Limbo is more of a platformer game than Inside, which is great. In Limbo, the set-piece moments and puzzles, and challenges are much more memorable and fair. At times, Inside could be very frustrating, and dying was much more likely. The puzzles were also much harder and more confusing than in the last game by Playdead. Limbo is the more complete of the two, but if you like the style, you should check out both.
9. Jet Set Radio
The two Jet Set Radio games are some of the most popular Sega cult classics, and it's easy to see why. The game has a lot of styles, with graphics that look like cel shading and a great soundtrack. Jet Set Radio has a unique way of playing. On a normal level, you have to spray paint all the marked spots while avoiding the police.
The first few levels are easy, but they quickly get harder, making it harder to find the tags. This game is a lot of fun, but it can get hard, and the last few levels are way too long and boring. Still, most of the game is great, and if you like platformer games or Sega, you should play them.
10. Sonic Generations
The best way to play Sonic Generations is on an Xbox Series X. End of story. On a Series X, the game has FPS Boost and runs at a solid 60fps. It is also one of the few 360 games that can be played backward and run at a resolution close to 4K. One of the best Sonic games ever made is Sonic Generations. The levels are amazing, and you can play as both Classic Sonic and Modern Sonic.
The platformer game is short, with only nine worlds and two levels in each, but you can't really complain when you consider how good it is. It's so much fun to speedrun through stages and use boosts to get to the end. Sonic Generations is one of those games that you can play all the way through every now and then and still have a great time.